Welcome

We Solve Your Computer Problems!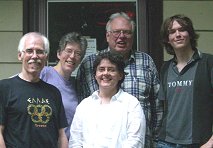 Rescuing data with great success!

Computer trouble can be like a disaster! No connection to the Internet? Did the machine crash, your files gone, including music, irreplaceable photos and video clips of your family, kids, pets and friends and loved ones?

Browse the menu on the left to see our Services
Are viruses, spy-ware or other invasive nasty malware slowing down your machine to an almost grinding halt? Hardware problems?

Waste no time and bring it right to us at 25 Main Street East, Drayton, Ontario (next to the Royal Bank - RBC)
Phone
519-638-5444 or toll free: 800-565-2353

It's worth the drive to Drayton!